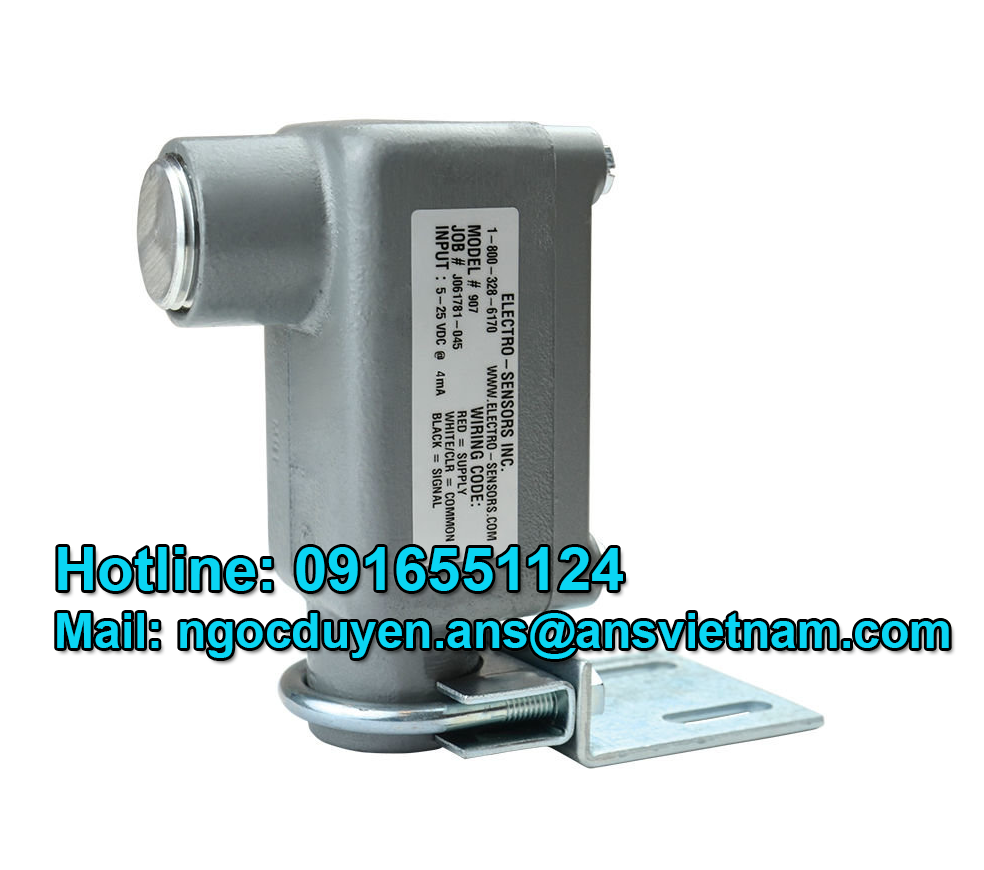 775-000600-Cảm biến tốc độ-Electro sensor Vietnam-Đại lý Ans Vietnam
Giá bán: Vui lòng liên hệ
Xuất sứ: USA
Hãng sản xuất: Electro sensor Vietnam
Gọi lại cho tôi
Gọi điện thoại đặt mua: 0916 55 11 24
ANS Vietnam hân hạnh giới thiệu đến quí khách sản phẩm mà chúng tôi là đại lý phân phối chính thức:
Hãng: Electro sensor
Model: 907 XP
Explosion Proof Shaft Speed Sensor - Hall Effect
Features
Square-wave pulse frequency output, NPN open-collector

Zero speed operation with no signal loss

5-24 VDC powered

Non-contact, large gap distance sensing

Bidirectional (quadrature) option

Works with Electro-Sensors magnetic pulser discs/wraps

Optional Mounting Bracket Assembly and Mounting Magnet

Class I, Div I (D) Class II, Div I (E, F, G) Class III

XLB-3 enclosure

907 XP sensors are used in applications requiring hazardous location ratings, or in applications where the sensor may be subject to abuse. It has a 1-inch NPT conduit opening for wiring, terminal strip for wiring, and is provided with a mounting bracket and 10 ft of cable. The quadrature (bidirectional) option has two sensors and is designed for applications requiring both speed and direction information. Specify vertical alignment when the magnets will pass vertically in front of the sensor face, and horizontal alignment when the magnets will pass horizontally in front of the sensor face..
These speed sensors use magnet-sensing Hall Effect IC's to produce a digital pulse signal to interface with speed switches, tachometers, counters, signal conditioners, or PLC's. Hall Effect sensors provide true zero speed operation with square-wave output and immunity to electrical noise.
A pulse disc or split collar pulser wrap with embedded magnets is mounted on the monitored shaft. As the shaft rotates, the magnets pass in front of the sensor causing the sensor to switch high and low, thus producing a digital pulse output. The sensors provide a digital square wave signal with a 50/50 duty cycle when used with pulse generators that have evenly spaced magnets of alternating polarities, such as Electro-Sensors Model 255 Pulser Disc. The recommended gap distance between the sensor and pulse generator is 1/4 inch +/- 1/8 inch. The gap flexibility makes the sensors tolerant of vibration, shaft run-out, misalignment, and industrial environments.
optional Mounting Magnet: MM-2.00 (For 907 XP Only)
(See EZ Mounting Magnets Page for More Information)
No Drilling or Tapping Required!

MUST be used with the EZ-100 Mounting Bracket
Ordering
Model Part Number
907 XP, 10' PVC Cable - Standard 775-000600
907 XP-S, 10' PVC Cable 775-000601
907 XP, 10' Teflon Cable 775-000602
907 XP Vert, Quadrature, 10' PVC Cable 775-006100
907 XP Horiz, Quadrature, 10' PVC Cable 775-006101
907 XP Vert, Quadrature, 10' Teflon Cable 775-006102
907 XP Vert, Quadrature, 50' PVC Cable 775-006105
907 XP Vert, Quadrature, 100' PVC Cable 775-006110
System Options Part Number
Standard 255 Nylon Pulser Disc,
4" Diameter, 16 Magnets 700-000200
Other Options Part Number
EZ-100 Bracket Assembly 810-000001
MM-2.00 Mounting Magnet (must use
EZ-100 Bracket Assembly) 810-000050
Standard Disc Guard 725-005300
EZ-Mount Disc Guard 725-005200
EZ-Mount Lower Disc Guard 725-005201
Hãy liên hệ với chúng tôi để được hỗ trợ giá tốt nhất!!!
Hot line: 0916551124 (@ Duyên)
[E]: ngocduyen.ans@ansvietnam.com
Sky: duyen_ans
Website: tudonghoaans.com
ANS VIETNAM là một trong những Công ty hàng đầu chuyên cung cấp máy móc, thiết bị cho ngành công nghiệp, điện công nghiệp và điều khiển tự động của các hãng nổi tiếng :Celduc Vietnam, sterilair vietnam, Vaisala Vietnam, Balluff Vietnam, Metrix Vietnam, Kofloc Vietnam, Meister Vietnam, AGR Vietnam, Electro Sensor Vietnam, Mts Sensor Vietnam, Hans Schmidt Vietnam, FMS Vietnam, IMO Vietnam, Sanko Denshi Vietnam, Takuwa Vietnam, Towa Seiden Vietnam, PCB Vietnam,…